How to select the right Wool Quilt
23rd Jul 2019
Selecting the right wool quilt has never been easier!
Woolstar offers a wide range of quilts to cover all types of sleepers. Whether you like to sleep in a cool, cosy or warm bedding environment Woolstar has you covered all year round.
Ask yourself this question: What is your sleep preference?
Cool- (I want a cooler quilt so I don't overheat at times.)
Cosy- (I want to be cosy in summer and snug in winter. Another word, never too cold and never too hot)
Warm – ( want to be snug all year round.)|
Now refer to the Wool Quilt Selector guide to simplify the process of selecting the right quilt.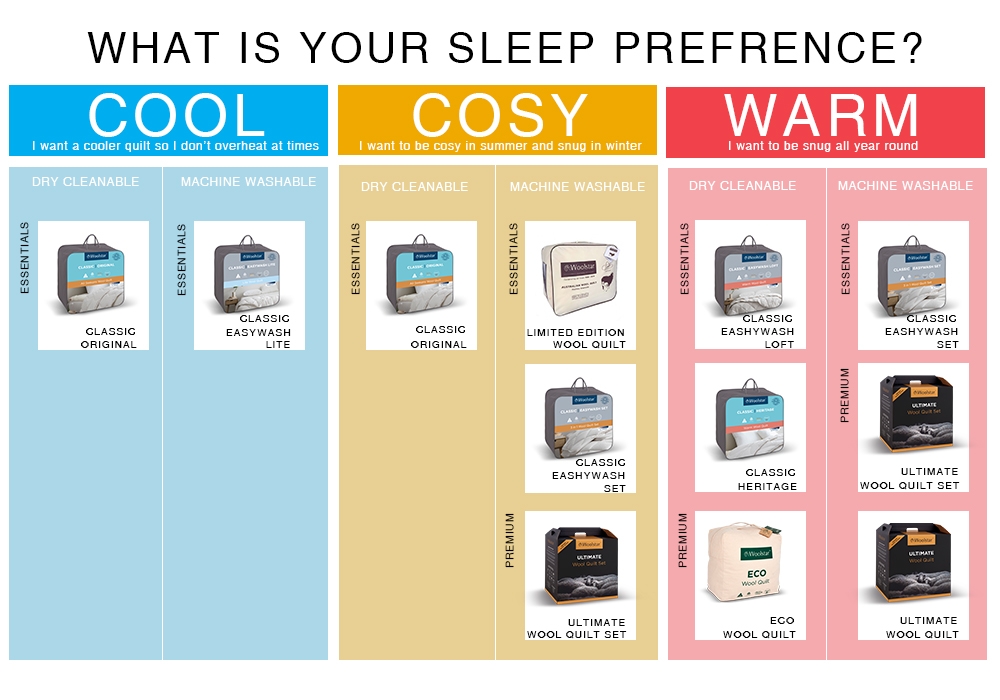 COOL - Drycleanable

Classic Original Quilt

COOL - Machine Washable
Classic Easywas Lite

COSY - Dry Cleanable
Classic Original

COSY - Machine Washable
Limited Edition Wool Quilt
Classic Easywash Set
Ultimate Wool Quilt Set
WARM - Drycleanable
Classic Easywash Loft
Classic Heritage
Eco Wool Quilt

WARM - Machine Washable
Classic Easywash Set
Ultimate Wool Quilt Set
Ultimate Wool Quilt